I've been thinking about the blue rocks on the bast of the Pacters and could use some imput. A poll is up on the right, so please vote!
After 30 days in transit, my next installation of the Pact have arrived. Now I ordered 30 heads and 40 backpacks and this is what came in the mail.
What I received:
44 backpacks, but only 2 sets of extra pouches. There should have been 4, one set of pouches with each backpack set:
33 heads: 5 of each sculpt, plus 3 extra of the head without a mask.
2 of their lasgun style weapons (which I didn't order. Thanks MaxMini!):
I'm disappointed in the missing pouches, and there are many more mould lines on these heads than on the first batch, but happy with the overall product. Now that I think about it, I can't wait to make a Pacter with the free tommygun!
Q: What do a defiler arm and an easter egg have in common?
A: Stalk-Tank!
The concept in profile:
This is the rough plan for my stalk tanks.
1: The ball joint will end up as the stalk-tank's head, greenstuff moulds will be made of land-raider headlamps and used as the stab-light/eyes.
2: Legs will be constructed and attached to the middle joint, probably where the hanging hoses are currently.
3: The easter egg will either be replaced with an angular plasticard version or I will find plastic eggs (rather than the chocolate above) to act as the basis for conversion. It will be about a half inch off the base.
4: Read over the books again for a solid description of a Stalk-tank so I have a good image in my head and so I can remember if the pilot's bubble was rounded or angular.
In other news, I found a
site that posted a review
of my love-tank.
Here's an interesting picture from their review: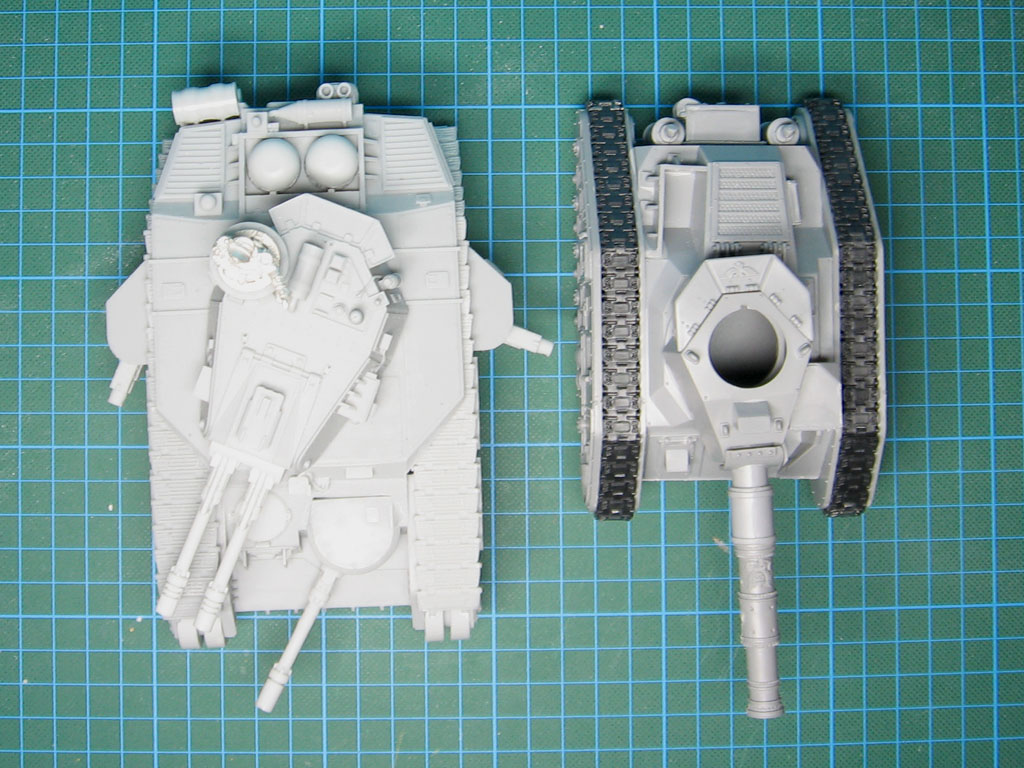 Using the grid to measure, it looks like it would be the same width as a Leman Russ with sponsons, and about a las-cannon longer.